Attention all Bobcat Athletes in Grades 6-12: Hagerman Municipal Schools will be hosting a clinic for Sports Physicals this Saturday, July 23 starting at 10AM in the Nurse's Office in the Middle School. Cost of the physicals will be $25. Physicals for full NMAA participation are required yearly so don't delay your participation by not completing the physical. Any questions can be directed to Andrew Rodriguez, Athletic Coordinator, at
arodriguez@bobcat.net
.

Fall Meet the Team Night/Mandatory Athletic Parent Meeting Come on out to the Hagerman High School Gymnasium on August 11, 2022 at 6PM to support our Bobcat athletes for the Fall. All MS/HS teams will be introduced with their coaches as well as hold the annual Parent Meeting required by NMAA. Looking forward to seeing everyone as we kick off another school year and athletic season for our Hagerman Bobcats. Questions can be directed to Andrew Rodriguez, Athletic Coordinator, via email at
arodriguez@bobcat.net
.

Class Registration for High School Wednesday, July 27 Seniors: 8 am - 12 pm Juniors: 1 pm - 4 pm Thursday, July 28 Sophomores: 8 am - 12 pm Freshmen: 1 pm - 4 pm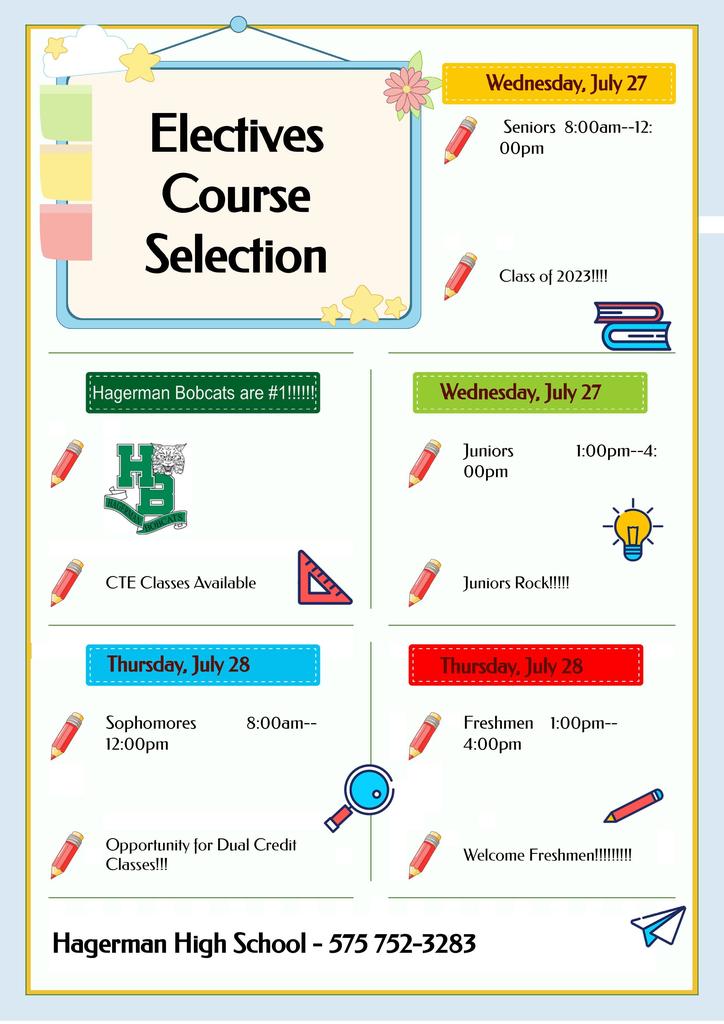 Hagerman high school credit recovery summer school. July 11-29. M-F. 9:00-11:30 & 1:00–3:30.

Congratulations to our Hagerman High School 2022 graduates! We are proud of each and every student and looking forward to seeing their bright futures ahead!

Be sure to join us in the elementary auditorium May 11th for the Hagerman High School Baccalaureate at 6PM!