Hagerman Municipal Schools has a new website to improve parent access to information as well as follow your son or daughter's school activities, sports and buildings. Go to the Apple App Store or Google Play, put in HAGERMAN BOBCATS and the app will show with our good friend, Bob, as the image. Download the app and have access to all things Hagerman Schools, including lunch menus and important dates to know for grade cards, days off school and event cancellations when they do happen. Questions can be directed to
dsanchez@bobcat.net
. Go Bobcats!
Hagerman FFA had an amazing week here at Chaves County Fair, we had a total of four Hagerman FFA students show their projects throughout the week, projects ranged from livestock, crafts and ag mech. Each of our students have made it into the Junior Livestock Sale tonight. We are extremely proud of all of their hard work and success this week. Students are looking forward to Eastern New Mexico State Fair and New Mexico State Fair. Below are listed students and their projects. Reina Holguin Duroc Class- 3rd place Poultry- 1st place Poultry- 1st place Poultry- 2nd place Poultry- 3rd place Grady Moss Blackface- 2nd Mutton cross- 6th place Steers- 5th place Luke Gray Blackface- 1st place Blackface- 4th place Blackface- 4th place Blackface-6th place Blackface- 8th place Mutton cross- 1st Reserve Grand champion blackface Reserve Grand Champion mutton cross Junior Showmanship Award Dairy heftier- 5th place Poultry- 6th place NM Heritage Essay Winner Craft exhibits Rowdy Gray OBP Class- 2nd place OBP Class- 3rd place Cross Class- 2nd place Duroc Class- 4th place Blackface- 4th place Ag Mech- 1st place metal Silhouette sign Ag Mech- 1st place Metal Kamal Ag mech Grand Champion and Reserve Grand Champion

Announcing the 2022 Bobcat Football Varsity Football Schedule. We have 6 home games this year so come out and support our Hagerman Bobcats as they compete in one of the toughest small school football districts in the state.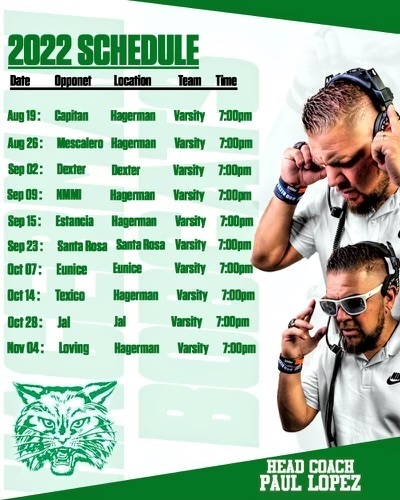 We are pleased to announce the hire of our new head football coach Paul Lopez. Coach Lopez is a 1995 graduate from Clovis High School. He was a part of the 1994 Clovis State Football Championship Team. Lopez went on to play for New Mexico Highlands University where he was part of the Rocky Mountain Athletic Conference Championship Team in 1999. Lopez has Coached Football at West Las Vegas High School, Hatch High School, Rio Rancho High School, Carlsbad High School, Clovis High School, and is now a part of the Bobcat family. He also has been the General Manager and Head Coach of two semi-pro football teams, the Curry County Cats based out of Clovis, and the New Mexico Rush based out of Carlsbad. Lopez is the husband of Nichole whom he has been married to for the past 19 years. They have 4 children Taylin, twins Zaden and Zailor, Kazlyn, and a new grandson Zeke. Coach Lopez and the Bobcats will open the season at home against the Capitan Tigers on August 19th. We look forward to the upcoming season as we move to a new chapter of Bobcat Football!

Attention Parents and Supporters of Hagerman Municipal Schools: The Bobcats now have our own App that can be downloaded to your phones to follow the news, events, activities and achievements of our students and staff. Go the Google Play and Apple App store for download. Look for the app, Hagerman Bobcats, with our logo. Click and follow directions for downloading. Added advantage of having the app is if you have multiple students in different buildings, you can cater the app to your family's needs. Also, in the event of a snow day or school closure, you will receive immediate notification of the cancellation once it is posted by Mr. C. Take some time to connect and see what a great tool this is for following your son or daughter's events and activities with the District.

Attention Student Athletes and Parents: The Fall Meet the Team night has been moved to August 8 because of a conflict with a football scrimmage versus Artesia. The mandatory NMAA Parent Meeting will be held that night so you must attend with a parent-guardian that evening for participation. Direct any questions to Coach Rodriguez at
arodriguez@bobcat.net
.

Attention all Bobcat Athletes in Grades 6-12: Hagerman Municipal Schools will be hosting a clinic for Sports Physicals this Saturday, July 23 starting at 10AM in the Nurse's Office in the Middle School. Cost of the physicals will be $25. Physicals for full NMAA participation are required yearly so don't delay your participation by not completing the physical. Any questions can be directed to Andrew Rodriguez, Athletic Coordinator, at
arodriguez@bobcat.net
.

Fall Meet the Team Night/Mandatory Athletic Parent Meeting Come on out to the Hagerman High School Gymnasium on August 11, 2022 at 6PM to support our Bobcat athletes for the Fall. All MS/HS teams will be introduced with their coaches as well as hold the annual Parent Meeting required by NMAA. Looking forward to seeing everyone as we kick off another school year and athletic season for our Hagerman Bobcats. Questions can be directed to Andrew Rodriguez, Athletic Coordinator, via email at
arodriguez@bobcat.net
.
Class Registration for High School Wednesday, July 27 Seniors: 8 am - 12 pm Juniors: 1 pm - 4 pm Thursday, July 28 Sophomores: 8 am - 12 pm Freshmen: 1 pm - 4 pm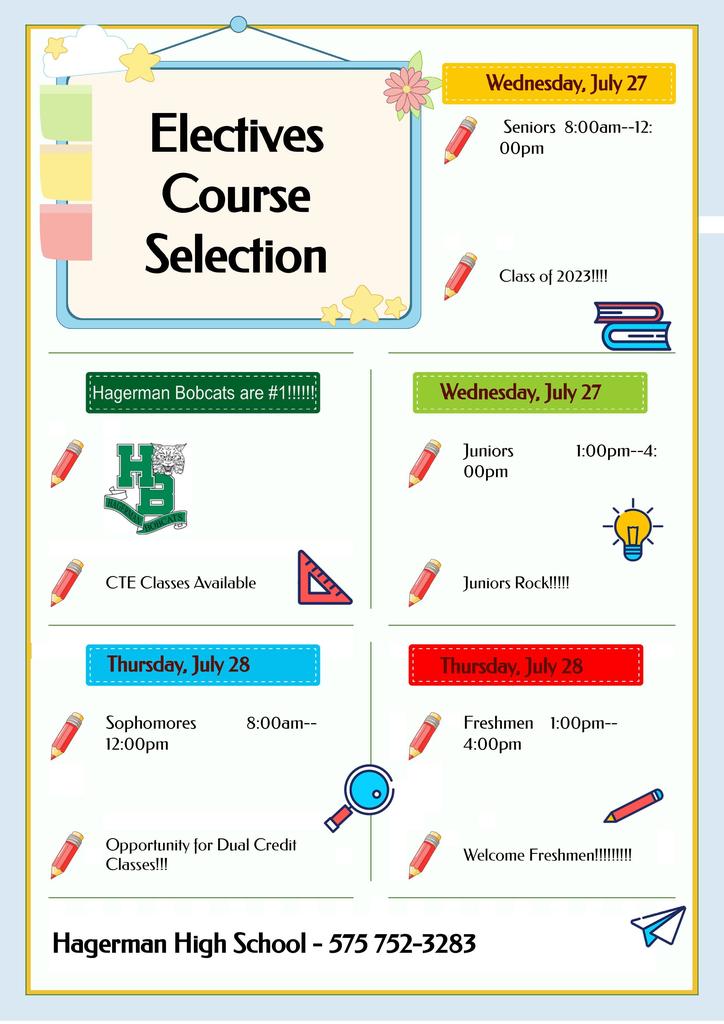 Hagerman high school credit recovery summer school. July 11-29. M-F. 9:00-11:30 & 1:00–3:30.

Congratulations to our Hagerman High School 2022 graduates! We are proud of each and every student and looking forward to seeing their bright futures ahead!

Be sure to join us in the elementary auditorium May 11th for the Hagerman High School Baccalaureate at 6PM!